Home » Top 10 Winter Foods to Try in Japan Top 10 Winter Foods to Try in Japan
Perhaps nowhere appreciates the changing seasons quite as much as Japan. Spring is welcomed in with the blooming of the cherry blossoms, summer is hot and humid and is the time for fireworks and festivals, in autumn as it cools down the country side is a riot of golds and reds as the leaves change their colors and finally winter is time to wrap up warm, snuggle up under your kotatsu (a futon covered table with a heater underneath) and eat some tasty food. Here's our guide to the 10 best foods to enjoy in winter in Japan.

1. Nabe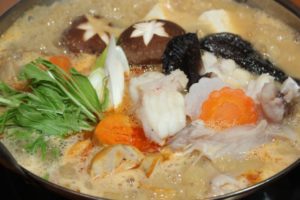 Nabe, which literally means pot, is hotpot cooking. Basically a large earthenware pot packed with tofu, veggies, meat, fish and a delicious broth brought to a simmer and all the diners take from the same pot. Anything can be put in a nabe but perhaps the most famous variety is the sumo wrestler's favorite, 'chanko nabe' which is protein heavy and eaten in huge quantities to help the wrestlers bulk up. Other popular hotpot dishes include 'motsu nabe' (containing offal), spicy kimchi nabe, 'bottanabe' (containing wild boar), and perhaps the easiest of all 'yosei nabe' (anything goes) in which basically any combination of meat, fish or veg is cooked with whatever broth you fancy. Common ingredients in a Japanese hotpot include tofu, Chinese cabbage, leeks, carrot, shiitake mushrooms, enoki mushrooms, chunks of fish, small balls of minced fish or chicken or thinly sliced beef or pork. Nabe is a popular dish at home as well as in restaurants. It is common to put rice or noodles in to the remaining broth after the meat at veggies have been finished.

2. Sukiyaki and Shabu Shabu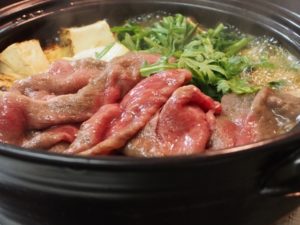 While technically a variety of nabe both sukiyaki and shabu shabu deserve special mention. Sukiyaki is one of the most popular winter dishes in Japan. It consists of veggies, tofu and 'shiratake' (noodles made from a kind of mountain potato) cooked in a sweet soy broth. Diners then place thin slices of beef in the broth to cook for a few seconds before dipping in raw egg and eating. It's rich delicious and a definite crowd pleaser. Shabu Shabu is another special hotpot dish. Veggies and tofu are simmered in a light dashi broth and diners dip thinly sliced pieces of pork in the broth for a couple of seconds before dipping in either a 'ponzu' (slightly sour soy sauce flavoured with yuzu) or into 'gomadare' (a creamy sesame sauce) and eating. Both sukiyaki and shabu shabu are absolutely delicious and fun to cook and eat with friends.

3. Oden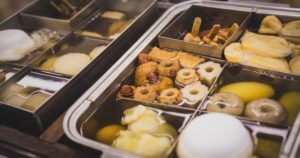 In Japan you know winter is here when the smell of Oden greets you when you enter a convenience store. You'll notice a big vat on the counter filled with various strange things floating around in it. It can look and smell quite intimidating but is definitely worth a try. Oden is various fish cakes, vegetables, jellies and tofu simmered in a soy and dashi broth. Popular items include tofu, 'hanpen, chikuawa and kamaboko' (kinds of fish cakes) 'yude tamago' (boiled egg), 'konyaku' (a thick jelly like substance made from a mountain root vegetable) daikon radish and 'konbu' (kelp). Oden is not for everyone but it's cheap, healthy and warming.

4. Nikuman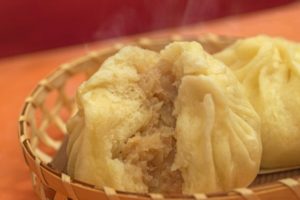 While found throughout the year at convenience stores, food stalls and festivals these large steamed buns, originally brought over from China, are a definite cold weather favorite in Japan. They are stuffed with meat or red beans and are a cheap and filling winter warmer. Look out for interesting flavors such as pizza, chili or curry.

5. Fugu (Puffer Fish)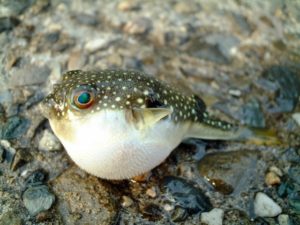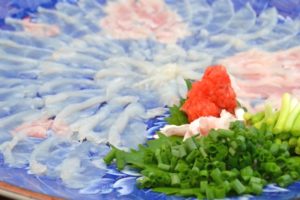 Fugu is infamous as the fish that might kill you. The Japanese puffer fish contains the deadly tetrodotoxin in its skin, liver and ovaries and therefore can only be prepared by specially trained chefs. In fact the Japanese Imperial family is forbidden from eating it. It remains popular for its subtle and delicate flavor and can be found in speciality fugu restaurants throughout the country. It is served raw in thin slices, in a hot pot or deep fried. Definitely for the adventurous!
6. Kaki (Oysters)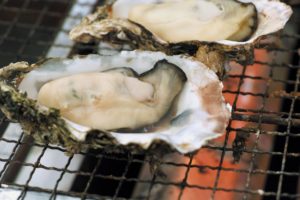 Oysters are well loved around the world known, often referred to as sea milk due to their high nutritional value, they have been eaten in Japan since the Jomon period (about 300bc). Pacific oysters come in to season in the winter and can be found in restaurants, supermarkets and izakayas throughout the winter months. They are prepared raw, steamed, grilled, fried or in a hotpot.
7. Strawberries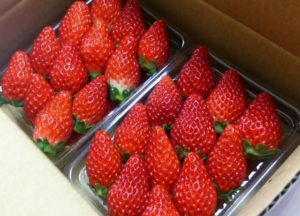 While most of us consider strawberries the definitive taste of summer, in Japan they are a winter fruit. They are grown in greenhouses and poly tunnels and harvested in winter rather than late spring. The pristine fruit are large and juicy and can be found gorgeously presented in most supermarkets, green grocers or departments store food halls. Strawberries feature in the Japanese version of Christmas cake, a sponge covered in cream and strawberries. You can also find them wrapped in mochi or dipped in chocolate.
8. Mikan and Yuzu (Oranges and Yuzu)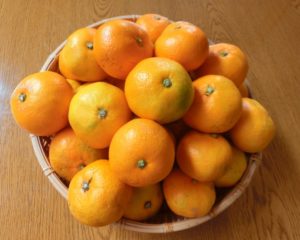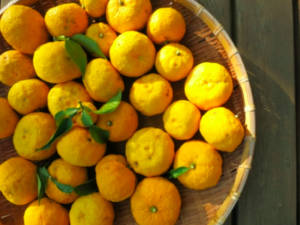 Japanese oranges are delicious and there are huge number of different varieties that come into season at different times of the year. The small juicy seedless mandarins you'll find throughout Japan are real favorites in the cold winter months. Yuzu are a kind of yellow citrus fruit that come into season in winter. Known for their distinct fragrant aroma they are used as flavorings in dessert or used as a seasoning in broths and soups. Yuzukosho (yuzu pepper) is a popular condiment and Yuzushu is a delicious liquer flavoured with yuzu. Japanese also like to throw a whole yuzu into the bath tub where the aromas help you to relax.
9. Nikujaga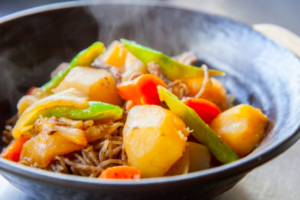 Nikujaga which translates as meat and potatoes is a family favorite in the winter months. Easy to prepare, nikujaga is a hearty warming dish of potatoes and thinly sliced beef simmered in a sweet soy dashi and often topped with snow peas. You'll find it in people's homes and also in some teishokuya (restaurants specializing in set meals of rice, soup, pickles, salad and a main dish.
10. Osechiryori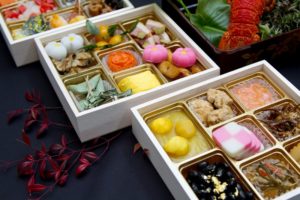 Osechi is Japan's traditional New Year's meal. It is served in compartmentalized bento like boxes and shared amongst the family. The boxes contain a variety of dishes that all have a special meaning. Black beans are for good health, flying fish roe for fertility, sardines for a bountiful harvest, and shrimp and dried persimmons are for longevity. The different components are exquisitely presented and a real feast for the eyes as well as the stomach. Traditionally the components were prepared at home but it is possible to order them from convenience stores or department store food halls. Though it is not cheap it is the ultimate Japanese meal and well worth a try.