Home » 10 Must Try Japanese Sweets And Desserts Sweet treats: 10 Must Try Japanese Sweets And Desserts
Japan is rightly world famous for its Cuisine but it's not all Sushi and ramen. The sweet toothed will find a mouthwatering array of delicious desserts, cakes and sweets. From traditional Japanese Wagashi to Japanese takes of western dessert classics Tokyo offers a huge selection of delicious and often beautiful sweet treats. Here's our pick of the best.
1.Wagashi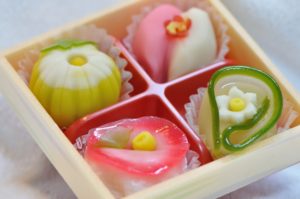 These beautifully crafted and delicate sweets made from mochi (a kind of sticky rice) and red bean paste are as quintessentially Japanese as it gets. Stunning to look and delicious they are often served alongside a cup of Macha green tea. The colour, flavor and design change according to the time of year, capturing the essence of the season in a delicious bite.
2.Manju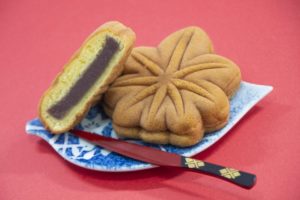 Manju are probably the most popular sweets in Japan, steamed buns filled with red bean paste. Originally brought over from China in the 1300s, manju are now very much a Japanese dessert. With many regional varieties they make great sousvenirs.
3.Kakigori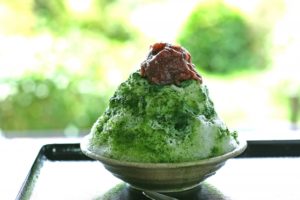 Kakigori is the Japanese take on shaved ice. A huge mountain of freshly shaved ice served with lashings of colourful fruit syrups. The best way to cool down in the hot summer months kakigori are often found at summer festivals.
4.Dango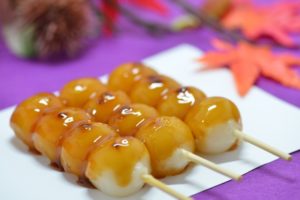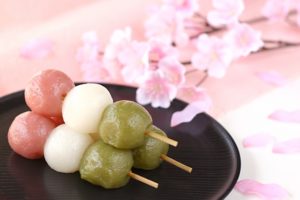 Dango are small dumplings made from mocha rice flour. They are usually served on a skewer and can come covered in a thick, sweet soy sauce, covered in kinako powder or smotherered in red bean paste. You can find them at festivals, department store food halls or even at convenience stores.
5.Taiyaki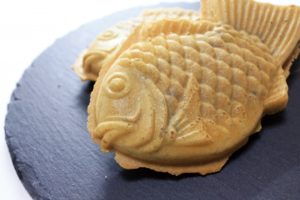 These fish shaped pastries are definitely one of the most popular sweet treats for visitors to Tokyo. They are grilled in a special fish shaped griddle and come stuffed with a variety of fillings, from red bean paste, to fruit, or custard. Taiyaki are a real crowd pleaser.
6.Anmitsu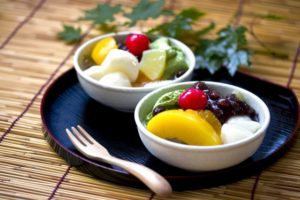 Anmitsu is a hugely popular dessert in Japan. A kind of Japanese version of an ice cream sundae. Fruits such as pineapple, cherry and orange are served with a scoop of red bean paste, icecream and mocha balls with a drizzle of black sugar syrup. Its suprising light and refreshing.
7.Crepes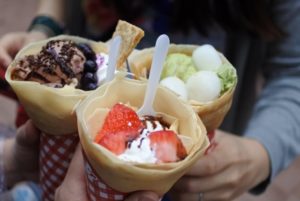 French Crepes have been a Harajuku favorite for a while now. The streets and alleys of Harajuku are teeming with crepe stalls. Harajuku crepes are distinctive in that they served rolled up into a cone shape. A wide range of flavours and fillings are on offer from classics such as banana & chocolate or strawberry & cream to slightly more outrageous fillings such as ham and mayo or curry. Either way a crepe is the perfect street snack to try while in Harajuku.
8.Fluffy Pancakes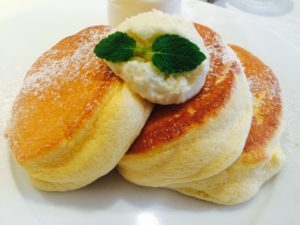 These large, super light, fluffy as a cloud pancakes are a delicious and instafriendly treat. Half way between a soufflé and a pancake they are often served with berries and whipped cream.
9.Soft cream.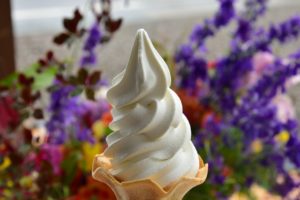 Japanese soft serve ice cream is a crowd pleasing delight. Who doesn't like ice cream after all? The real treat with Japanese ice cream is the selection of interesting flavours, often regional or seasonal. Flavours such as Yubari melon, matcha green tea or black sesame are all worth a try!
10.Japanese Patisseries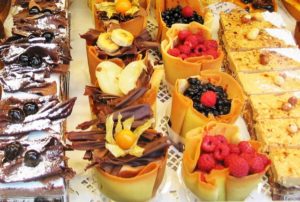 Head down to a department store food hall and you will find a section devoted to cakes. These gorgeous cakes and delicacies are little exquisite works of art. Popular cakes would have to include the Mont Blanc, a chestnut flavoured delight or short cake, a cream and chocolate sponge.
Eat like a local and enjoy these delicious and affordable sweets and desserts during your trip to Tokyo.