Home » Top 10 Must Eat Street Foods In Tokyo Top 10 Must Eat Street Foods In Tokyo
Japan is a culinary paradise well known for its high quality and delicious cuisine and a food scene that spans everything from immaculate high end Kaiseki courses, gorgeous fresh sushi, exquisite tempura, to steaming hot bowls of ramen, charcoal grilled yakitori and cook you own Okonomiyaki. However Japan is blessed with an amazing street food scene too. Year round (but especially in summer) you'll find small yatai (food stalls) on street corners, around temples, on shoutengai (shopping arcades) and at festivals. The easily approachable street food vendors offer a vast array of tasty on the go snacks that are cheap, delicious and filling. Offerings vary by season and region so you'll find piping hot 'yaki imo' (roasted sweet potatoes) in winter and 'kagigori' (shaved ice with sweet syrup topping) in summer. Here's our top 10 favorite foods to keep a look out for while you explore Tokyo.

1. Takoyaki & Okonomiyaki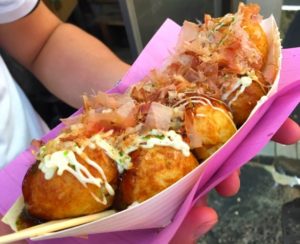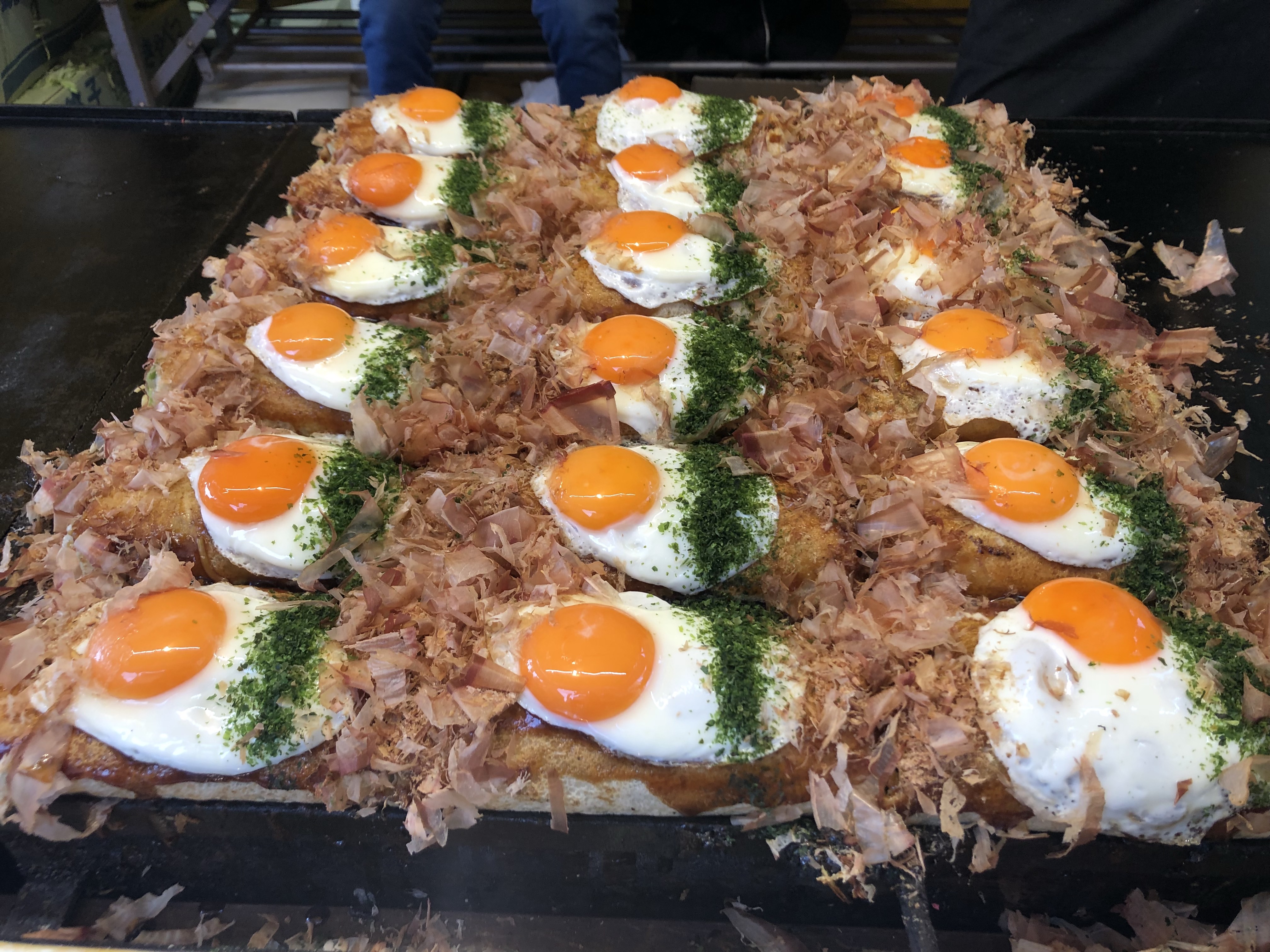 Takoyaki are delicious piping hot balls of batter packed with chunks of octopus (tako), pickled ginger (benishouga), and spring onions (negi) and then slathered with a special sauce and mayonnaise and topped with dry seaweed (nori) and bonito fish flakes. You can watch the vendor prepare the takoyaki in a special cast iron skillet and expertly flip the balls. A word of warning, these delicious balls are exceptionally hot so be careful not to burn your tongue.
Okonomiyaki(popular pan fried food that consists of batter and cabbage) is usually served in restaurant. But if you are lucky, you may find Okonomiyaki at the vendor as well.
2. Korroke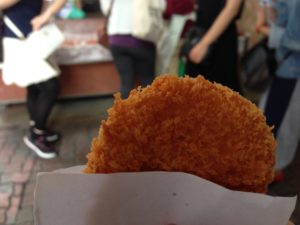 Korokke are the Japanese version of the potato croquette. Tasty balls or patties of mash potato covered in breadcrumbs and deepfried. Korroke are a real crowd pleaser, warm, crunchy and soft in the middle. There can come plain (just potato) or can come with a variety of fillings. Try the 'kabocha' (pumpkin), 'gyu' (beef) or 'yasai' (veggie) or go for the cream Korroke which are formed with a thick cream filling and come in varieties such 'kani cream' (crab) or 'ebi' (shrimp) or corn. You can find them throughout the city at convenience stores, supermarket deli counters or, best of all, freshly fried at speciality street vendors.
3. Taiyaki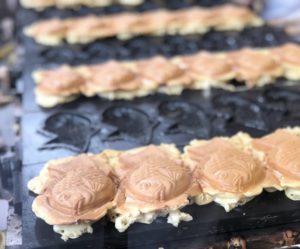 Taiyaki are delicious fish shaped pastries cooked in a special fish molded griddle and served piping hot. They are a real sweet treat and can be filled with a number of fillings from the tradition 'anko' (red bean paste) to custard or chocolate. They make the perfect dessert on a street food walk.
4. KushiYaki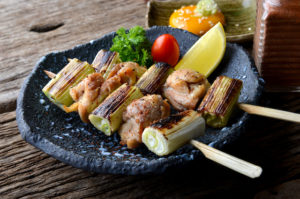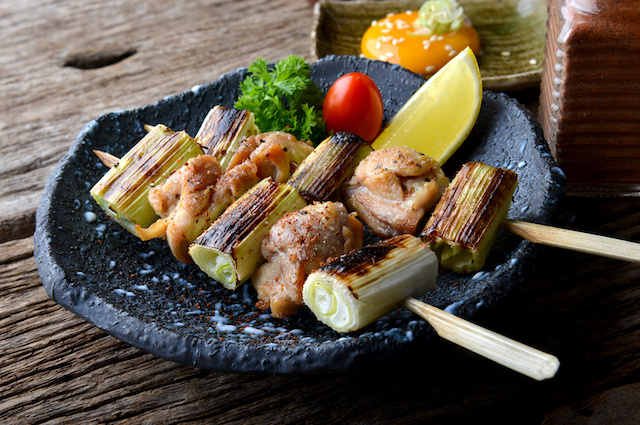 A real pleasure for meat lovers, kushiyaki are skewers of tender meat cooked on a griddle or over hot coals and served dipped in a sweet soy sauce or sprinkled with salt. The most popular is yakitori (skewered chicken cooked over coal). Try reba (liver), momo (thigh) negima (leek and thight) or tsukune (balls of chicken mince). Other popular types of skewered meat you might encounter would be gyu (beef) or buta (pork).
5. Crepes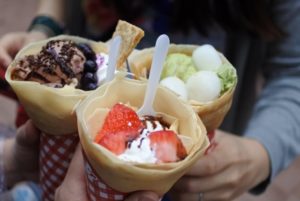 Crepes are one of Tokyoites favorite street eats and can be found across the city but for the real Tokyo crepe experience head to Harajuku's Takeshita dori and join the crowds at one of the many creperies. These sweet treats come in all sorts of flavours from crowd pleasers such as strawberries and cream and chocolate banana to more unusual flavor combinations such as cream cheese and ham or potato salad and tuna. They are swerved rolled up in a cone, making it easy to eat them on the go.
6. Yakiimo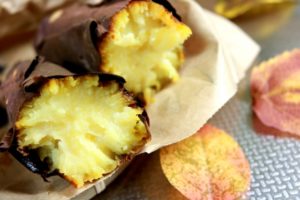 Yakiimo, baked satsuma-imo (Japanese sweet potatoes) are a real autumn/winter treat. They are baked over a wood fire and served in a paper bag. The potatoes have a delicious sweet and fluffy interior and definitely warm you up on a cold day. They are sold at festivals and stalls but are most associated with the yakiimo truck. You'll see the yakiimo truck parked outside of train stations, on street corners or driving slowly around the neighborhood. If the aroma of roasted potatoes doesn't draw you in, keep an ear out for the distinct 'yakiiiimoooo' song played by the truck to let you know he's in the area.
7. Karaage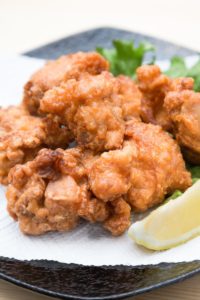 Like in many cultures, fried chicken is one of Tokyoites guilty pleasures. The Japanese take on this globally popular classic is karaage. Karaage is sumptuous pieces of boneless thigh meat, marinated in soy sauce, coated in potato starch and deep fried, resulting in juicy morsels of meat with a super crispy exterior. It really is a crowd pleaser and can be found in supermarkets, convenience store and even part of a traditional bento (lunchbox) or teishoku (set meat) but the best karaage comes direct from a street vendor's fryer.
8. Katsu and Furai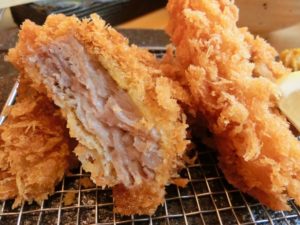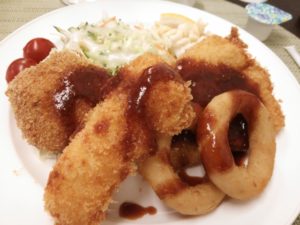 Katsu are deep fried cutlets of bread crumbed meat. As with most street food, forget the calories and enjoy the pleasure of biting into a deep fried cutlet. They are a real treat. For pork try 'tonkatsu', for chicken try 'chikinkatsu', and for beef try 'gyukatsu'. They are sold at supermarkets, restuarants or can be bought from speciality fry shops, located on Tokyo's many shoutengai 'shopping streets'. These fry shops also sell delicious fried seafood. Try 'ebifurai' for deep fried breaded shrimp, 'kakifurai' for oysters, 'ikafurai' for squid, or 'ajifurai' for horse mackerel. Help yourself to some 'sosu' (a thick Worcestershire sauce like sauce) or some 'karashi' (a potent mustard) which you'll usually find available.
9. Pan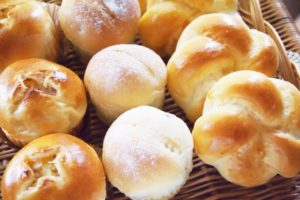 Pan means bread and Japanese bakeries are full of delicious baked delights. Perfect for part of a picnic, lunch or just an on the go snack, Japanese bread is delicious. Some unique and delicious Tokyo style baked goods to try would be 'meronpan' (melon bread), an often huge melon flavoured bun, 'karepan' (curry bread), a deep fried bread filled with Japanese sweet curry or 'anpan', a bun filled with sweet bean paste. These breads are so popular that they spawned a series of cartoons the main characters of which are Anpanman, Meronpannachan, and Karepanman.
10. Candied Fruit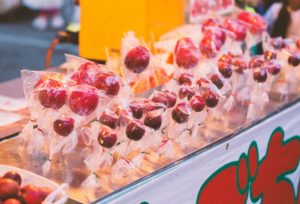 A real street food classic, candied fruit can be found at most Japanese festivals and are especially popular with kids. Fruit dipped in warm sugar syrup are stuck on a stick and let to cool creating a hard exterior protecting the soft fruit inside. Popular fruits would be 'anzu' (apricot), 'ringo' (apple), or 'ichicgo' (strawberry).
Eat like a local and enjoy these delicious and affordable street foods during your trip to Tokyo.