Home » Top 10 Izakaya foods – What to Eat in Japan Top 10 Izakaya food
 A trip to Tokyo would not be complete without a visit to one of the thousands of izakayas found throughout the city. The izakaya is Japan's answer to the pub or tavern and eating at one is one of Japan's most delicious culinary experiences. The izakya is where friends meet or where business men go to relax after work. They come in all shapes and sizes from tiny seven seaters to large sleek chains, they can traditional, or sleek and modern but they all serve a delicious array of food to be washed down with ice-cold beer or sake. Dishes are ordered and shared amongst everyone. This allows everyone to get a taste of everything that is ordered. It's a great where to sample a large variety of dishes accompanied by a cold drink and good conversation. Most izakaya don't have English menus meaning they can be a little intimidating so here are our 10 recommendations for a delicious night out.

1. Yakitori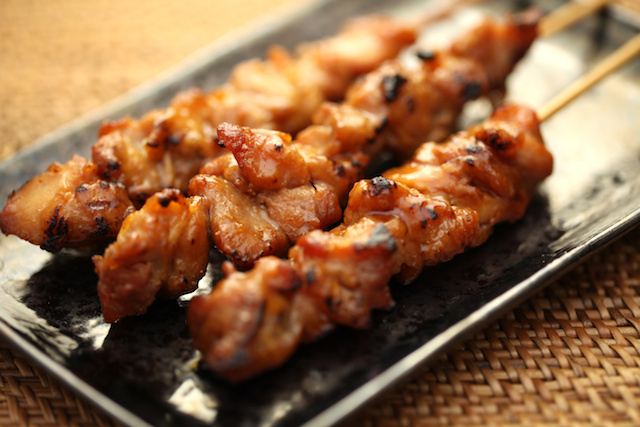 Yakitori, skewers of chicken charcoal grilled and served with either salt (shio) or sauce (tare), are the perfect accompaniment to an ice cold beer. All parts of the chicken available but you can't beat the simplicity of 'negima' (chicken and leek). It's not just chicken that gets the skewer treatment. Pork (yakiton) is also popular and for vegetarians there is a wide variety of veg on offer. Try Shishito (similar to a padron pepper), shitake mushrooms or petit tomatoes. There'll be a small wooden pot on the table to put your finished skewers in.

2. Sashimi (刺身)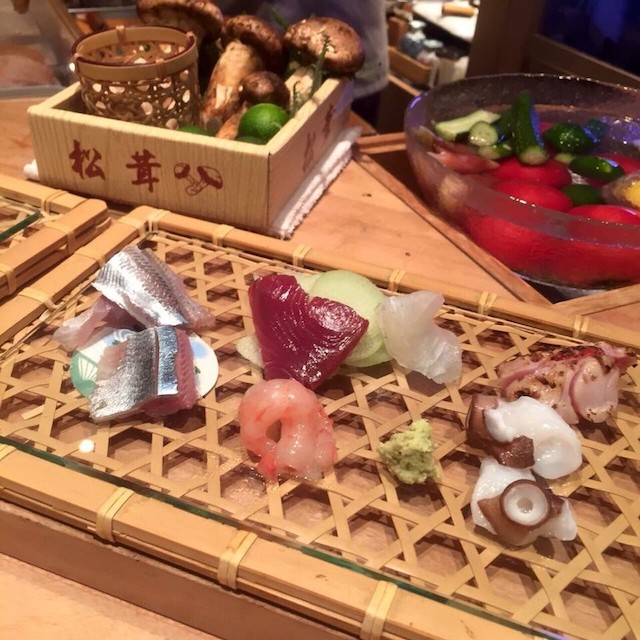 Not to be confused with sushi which is served with vinegared rice, sashimi is delicately sliced raw fish and is one of the quintessential izakaya foods. Common fish to be served as sashimi include salmon, tuna (maguro), sea bream (tai), yellowtail (buri), squid (ika) octopus (tako) and bonito (katsuo), though other seafood is also available. Try ordering the 'moriawase' (the chef's selection) for a variety of the freshest seafood. The sashimi will often be served with a garnish of daikon or shiso leaf and some wasabi. Each diner will be given a small saucer in which to put some soy sauce and wasabi to dip your sashimi into.

3. Grilled fish (焼き魚)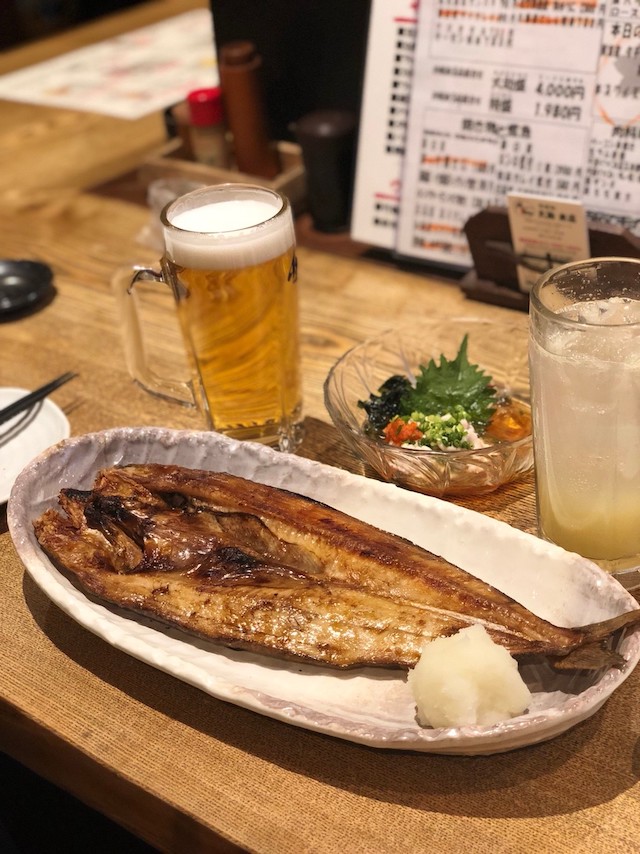 For those who don't like raw fish then most izakaya serve delicious grilled fish. Typically the fish being served will be either 'hokke' or 'saba' both kinds of mackerel which will be usually accompanied by some grated daikon.
4. Edamame (枝豆)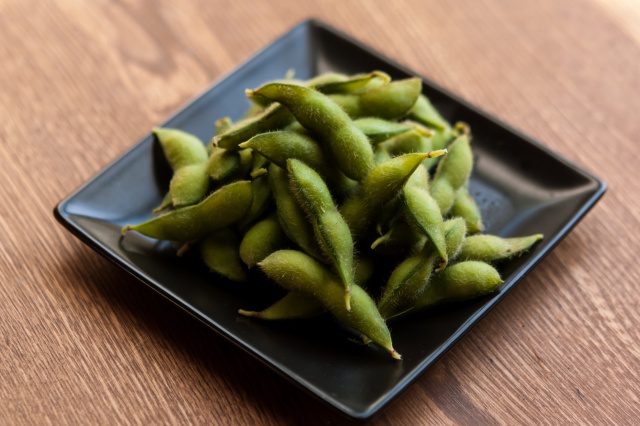 Edamame or boiled soy beans are one of the most popular dishes in the izakaya and often the first thing people order. Absolutely delicious and the perfect accompaniment to a nice glass of sake. You'll soon be addicted to popping the beans straight from the pod and into your mouth.

5. Tamagoyaki (玉子焼き)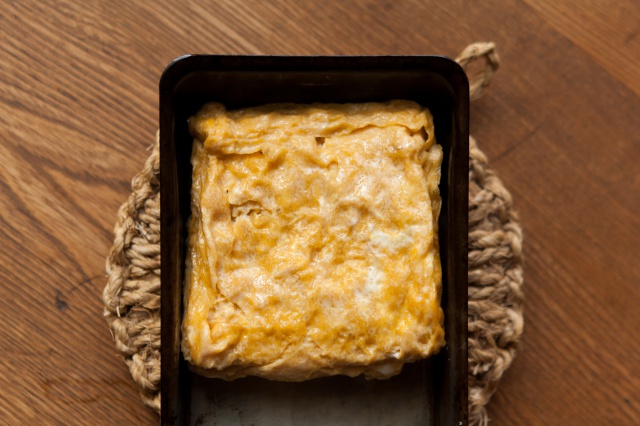 Tamagoyaki is the Japanese equivalent to the omelet. Thin layers of egg slowly cooked and rolled. Tamagoyaki is a common and delicious to order at the izakaya. They can be slightly sweet (dashimaki tamago) or slightly salty and are accompanied by some grated daikon.
6. Karaage (から挙げ)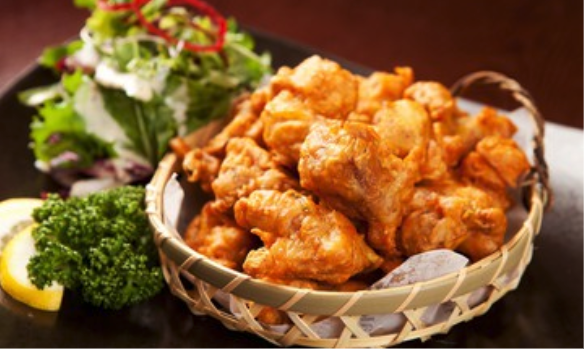 Karaage (Japanese style fried chicken) is a real crowd pleaser and clearly one of the most popular izakaya foods. This Japanese take on fried chicken involves soy marinated pieces of thigh meat coated in potato starch and then deep fried, resulting in a super crispy exterior and a juicy interior.
7. Japanese pickles (漬物)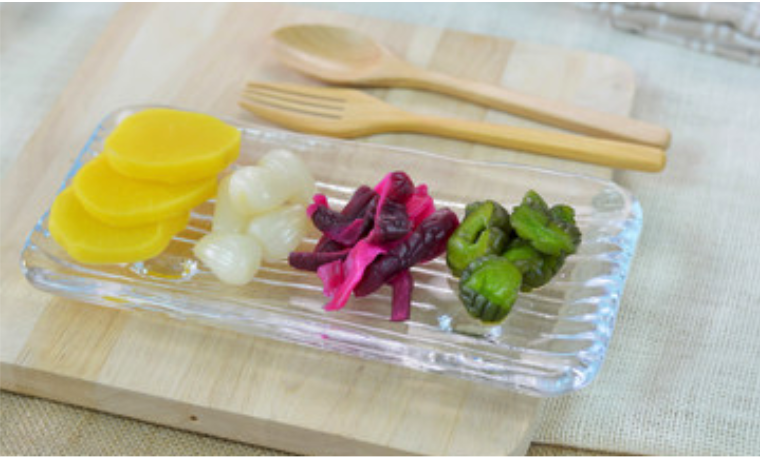 Japanese pickles known as tsukemono are an important part of the Japanese diet and are nearly always a part of the Japanese meal. Many kinds of vegetables and fruit are preserved in either salt, miso, vinegar or soy sauce. Popular vegetables include daikon, eggplant, burdock, shallots, cucumber and ginger. Not only are the delicious and healthy but also act as a palette cleanser.

8. Takowasa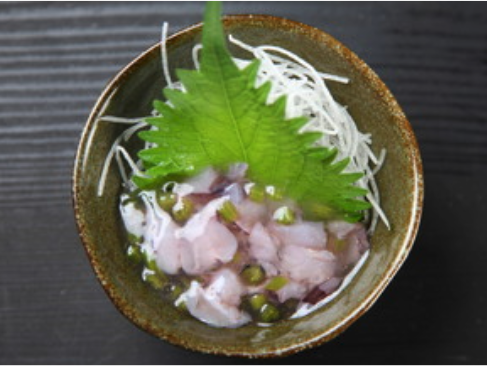 Takowasa is raw octopus served with wasabi. It's definitely for the adventurous eater. The raw octopus with fiery wasabi is a great accompaniment for some nice sake and while it may not look appetizing it is absolutely delicious.
9. Tebasaki (手羽先)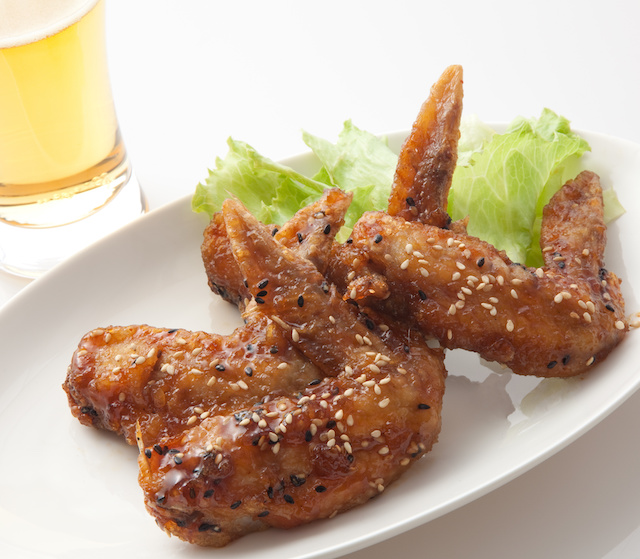 Tebasaki are chicken wings. Moorishly delicious these tasty wings are often double fired for extra crispiness and come coated in a delicious sweet sauce or dusted with salt or spice. Definitely a dish that everyone will enoy!
10. Kaisen salada (海鮮サラダ)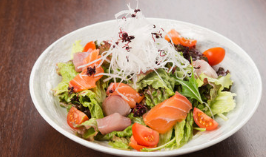 Kaisen salada is a Japanese seafood salad. Most izakayas have a few salads on their menus including western favorites such as Caesar salad or cobb salad but we recommend you try Japan's seafood salad. The salad will usually consist of various leaves such as mizuna or lettuce, along with cucumber, daikon radish and wakame seaweed and topped with various seafood items which may include sea bream, salmon roe, tuna or shrimp.